Description
For the item, DT Pro Tool Activation – License need to provide the DT Manager PRO Finger ID and DT Smart PRO Finger ID,  pls follow below link and give us the IDs, Thanks
https://www.martview-forum.com/threads/how-to-activate-install-update-dtpro-tool.15465/
Files Password: WhosYourDaddy
DT XIAOMI PRO (UNLOCKING BOOTLOADER TOOL) file Password: DTPROXIAOMI
For All Latest Update Detail Can Find It on https://www.dtprotool.com/supported-models
How to find the Finger ID?
https://www.martview-forum.com/threads/how-to-activate-install-update-dtpro-tool.15465/
DT Pro Tool is a solution allowing you to downgrade OS version and repair Huawei phones.
This solution is permanent, annual activation is not required.
Note! Usually activation takes up to 24 hours.
DT Pro Tool can be used on 1 PC ONLY. After you`ve used this activation on one PC you cannot change it.
How to Activate DT Pro Tool
Step 1. When your payment is received, we will send the password required for unzipping of DT files (see Step 3).
Step 2. Download DT Smart PRO and DT Manager PRO from the developer`s website.
Step 3. Create the "DTPRO TEAM" folder on your PC. Paste and unzip all the downloaded files using the provided password.
Note! Always run Modules.exe as administrator
Step 4. Provide us with your Fingerprints ID (as shown on the pictures below).
Important! Proper way to give us your Fingerprints IDs:
DT Smart PRO – Fingerprints ID: XXXXXXXXXXXXX
DT Manager PRO – Fingerprints ID: XXXXXXXXXXXX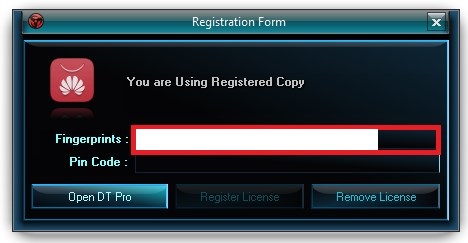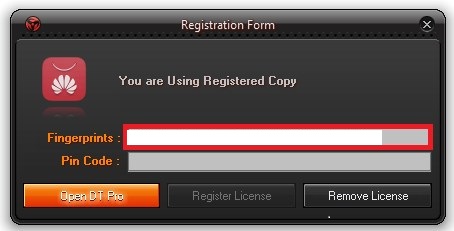 Step 5. You will receive your PIN CODE and 2 license files required for activation of your software. To activate your software, follow the video tutorials given below.
How to Activate DT Pro Manager